Amana 45527 Carbide Surfacing, Rabbeting, Planing, Leveling 2" Dia x 1/2 x 1/2" Shank
Carbide tipped spoilboard surfacing & rabbeting router bit great for cutting tight corners and surface planing.

Also suitable for router sled machines, 

Make sure that your router sled is fully stable and squared.
Perfect for:
Resurfacing spoilboards using CNC
Planing large glued up panels using CNC
Surfacing and finishing wood using timber slab machines
Rabbeting or slotting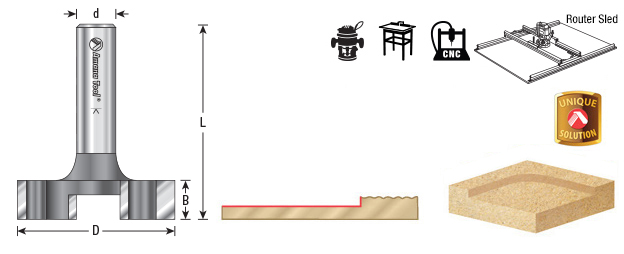 Designed for planing & rabbeting the following materials:
MDF
Fiberboard
HDF/LDF
Balsa Core
Plastic/Acrylic

**

Chipboard
Hardwood/Softwood
**Use lower CNC spindle RPM and adjusted feed-rate to prevent Melting and adhesion of the acrylic material to the tool.
Featuring:
Exclusive carbide grade for highest quality of cut
Maximum cutting efficiency
Faster material removal process