Amana 46270-K "Spektra" Solid Carbide Foam Upcut Bit - 1/8" Dia
Ensure your foam projects are milled with unparalleled accuracy detail and clarity. Achieve both precision and depth for foam carving and milling applications. Provides deeper cuts and larger slices with fewer passes in thick materials resulting in improved productivity and less assembly. The up-cut spiral ejects chips away from the workpiece.

46270-K Solid Carbide CNC Spektra™ Extreme Tool Life Coated Foam Cutting :
Up-Cut Square End Spiral

1/8" Dia

1-1/8" Cutting Length

1/4" Shank

2-1/2" Overall Length Router Bit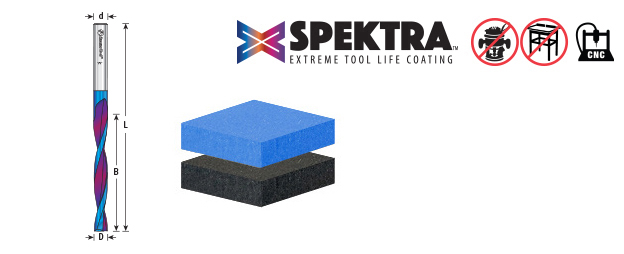 Our Spektra™ bits feature a nACo® nanocomposite coating with an extreme nanohardness and heat resistance. With a brilliant distinctively-tinted coloring nACo provides additional improvements in four critical aspects of router tooling.