Amana 46376-K "Spektra" Solid Carbide Upcut Spiral Ball Nose - 1/4" Diameter
Solid Carbide Ball Nose Spiral Up-Cut Router Bit
Used for carving decorative doors and sign manufacturing. Up-Cut design leaves an excellent finish and expels chips quickly.
Our Spektra™ bits feature a nACo® nanocomposite coating with an extreme nanohardness and heat resistance. nACo coating is a micro-thin ceramic coating which enables the tool's cutting edge to retain crucial sharpness and lubricity. This provides longevity and produces cutting results of the highest quality.
Excellent for Cutting:
Soft/Hard Wood
Aluminum
MDF
Soft/Hard Plastic
Sign Foam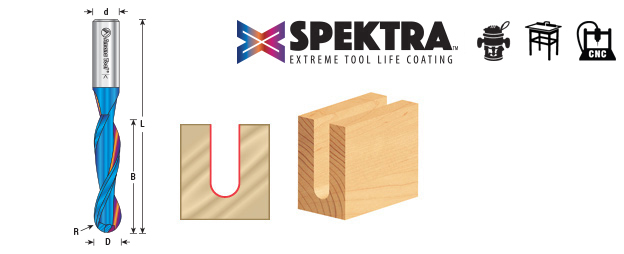 (D) Diameter: 1/4"
(R) Radius: 1/8"
(B) Cutting Height: 1"
(d) Shank: 1/4"
(L) Overall Length: 2-1/2"
Free Shipping within Canada*

This product qualifies for Free Shipping (normally by Canada Post Expedited Ground).

All in-stock items are shipped within 24–48 business hours. When your order is ready to be shipped you'll be sent a tracking code to get a delivery ETA.


*Excludes remote locations such as some areas of NL, Nunavut, NWT or Yukon; or areas requiring air freight service; or areas classed as a remote locations by Canada Post or the other carriers we use