Amana 46384-K 'Spektra' Solid Carbide Upcut Spiral Ball Nose - 1/2" Diameter
Solid Carbide Ball Nose Spiral Up-Cut Router Bit
Used for carving decorative doors and sign manufacturing. Up-Cut design leaves an excellent finish and expels chips quickly.
Our Spektra™ bits feature a nACo® nanocomposite coating with an extreme nanohardness and heat resistance. With a brilliant distinctively-tinted coloring nACo provides additional improvements in four critical aspects of router tooling.
Excellent for Cutting:
Soft/Hard Wood
Aluminum
MDF
Soft/Hard Plastic
Sign Foam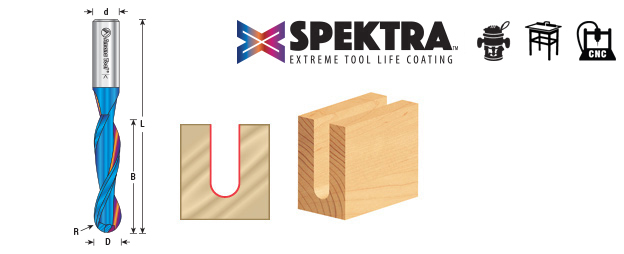 (D) Diameter: 1/2"
(R) Radius: 1/4"
(B) Cutting Height: 2-1/8
(d) Shank: 1/2"
(L) Overall Length: 4"