Amana 51410 Solid Carbide Spiral 'O' Flute For Plastics - 1/8" Diameter
Solid Carbide Spiral "O" Flute Plastic Cutting Up-Cut CNC Router Bit
Produce super clean smooth cuts especially in acrylic materials (Plexiglas Lucite) other plastics and wood. Bits are made according to strict tolerances from an exclusive carbide grade and polished to a mirror finish using Amana's unique process. Designed to eject chips up. Ideal for industrial applications and CNC machines. Right hand helix right hand cut.
Excellent for cutting:
Plastic/Acrylic
Acetal and Nylon
Acrylic Stone
Acrylonitrile Butadiene Styrene (ABS)
Alupanelå¨
Corian
Coroplast**
Corrugated Plastics* such as Correx Boards and Polyproylene
Delrin
Foam Board
Gatorfoam***
High Density Polyethylene (HDPE)
High Impact Polystyrene (HIPS)
King ColorCoreå¨ The Multi-Color Engravable Polymer Sheet.
and much much more...
Includes RB-102 1/4" to 1/8" Reducer Bushing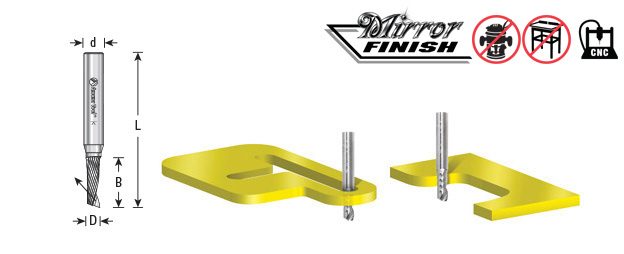 (D) Diameter: 1/8"
(B) Cutting Height: 1/2"
(d) Shank: 1/8"
(L) Overall Length: 2"