Amana RC-2250 Insert Carbide Surfacing, Rabbeting, Planing, Leveling 1-1/2 Dia x 1/2 x 1/2" Shank
Mini insert carbide spoilboard surfacing & rabbeting with scorer, great for cutting tight corners. Features unique 2+2 insert knife design that contains two cutting flutes and two up-shear scorers, which provide a smoother finish at the bottom of the cut than traditional two-knife style router bits. Great for surface planing.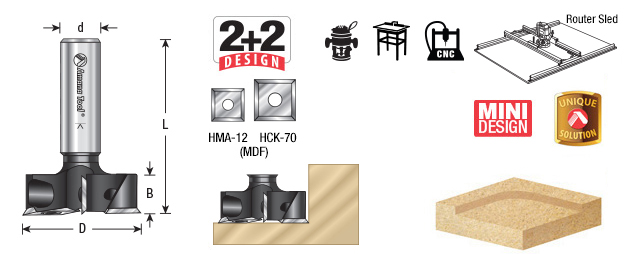 Perfect for:
Resurfacing spoilboards using CNC
2+2 spoilboards contain two bottom scorers for better performance, finer surface finish and better clearance for 90º corners.
Planing large glued up panels using CNC
Surfacing and finishing wood using timber slab machines
Rabbeting or slotting
Featuring:
2+2 design
4-sided solid carbide insert knives
Exclusive carbide grade for highest quality of cut
Maximum cutting efficiency
Faster material removal process
Flutes: 2 + 2, Diameter (D): 1-1/2", Cutting Height (B): 1/2", Shank Dia (d): 1/2", Overall Length (L): 2-5/16"
These industrial router bits feature solid carbide insert knives with four cutting edges that allow users to rotate the knife when one side becomes dull providing the highest-quality finish available on woodworking tools.